"I am locked in the bedroom again. She does this to me sometimes. This time it's been four months. She gives me books and newspapers to read, a battery-powered lantern, and some blankets. In the middle of the night she sneaks in, ties my hands down, and touches me. It's best if I don't struggle during this. She swallows and then kisses me hard, her mouth searing me with heat. My face feels like a blister. My lips, my nose, my cheeks bubbling, like a pizza in the oven. Maybe that sensation comes from the drugs she mixes into my food. The kind of drugs that tear through my blood and fill my head with a whirring sound. My brain becomes one of those pinwheels you nail to a tree and light up on the 4th of July. If I close my eyes, the spinning gets worse."
–Excerpt from "Goodbye Womb," a short story by Kevin Sampsell, which will be featured in Portland Review: Winter 2013.
Portland Review's Prose Editor, Jyoti Roy, recently had the chance to interview Kevin about writing, publishing, and working as an events coordinator at Powell's books. Check out what he had to say!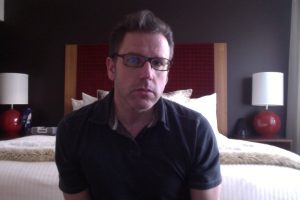 JR: Give us a brief bio…
KS: The first thing I tell people about myself is that I work at a bookstore. If they're not bored by that, then I'll tell them that I'm also a writer and small press publisher.
JR: Tell us about your new book that is coming out with Tin House…
KS: This Is Between Us is a novel that chronicles the ups and downs of a modern relationship–romance, sex, drugs, depression, and kids. My goal with this book was to reveal as many insecurities and secret thoughts that lovers and parents have.
JR: Your memoir, A Common Pornography, is written as a series of 'snapshots'–vignettes of self-contained memories that work together to form a bigger picture. Is your novel written in a similar style? Would you say this is how you normally write or was it a stylistic choice for the memoir?
KS: My novel does have some similarities to the memoir in that they are both written in short, vignette-style chapters, the novel even more so. Also, the tone of the narration is very personal and intimate. That is something that I do try to achieve with much of my writing. There's a sort of tight minimalism to it, but I think there's a sneakiness to it as well, where I try to pack a lot of emotional power into small chunks of text. When I write longer stories or essays, the style loosens up a little. I would even say that sometimes my writing gets a little weird and surreal. For instance, one of my newer stories is narrated by a baby who sneaks out of his house every other night. And last year I had a story published in the Fairy Tale Review.
JR: As events coordinator at Powell's Books, you meet some extremely famous writers. What is one of your best or strangest or coolest experiences?
KS: There have been so many cool experiences there. Even before I worked there (I started there in late '97) I saw a lot of my favorite authors, like Larry Brown, Mark Leyner, Dennis Cooper. But since then I've got to host events with everyone from Sontag to Sedaris. I see non-book celebrities there all the time too. San Antonio Spurs coach Gregg Popovich was looking for David Foster Wallace books. Regina Spektor was shopping the Marine Biology section one day and I got all fanboy with her. About two years ago, I saw John Darnielle of the Mountain Goats in the aisle and I started chatting with him because I know he's a big Gary Lutz fan as well. We talked about other writers and then I told him about my memoir and he (I think jokingly) said he'd do the soundtrack if it was made into a movie. Of course, one of the strangest experiences was reading at the store after my memoir came out. I had a really big crowd there to hear me and I got a little overwhelmed. I almost started crying three times during my reading, and then at the end of my Q&A, I proposed to my girlfriend (now wife). I think you can still see that on Youtube actually.
JR: Describe your writing practice. Is it daily?
KS: It probably should be but it's not. I have two or three days a week that are good for me–specifically my days off from work: Friday and Saturday. I try to make it count when I do have time though. I'm not the kind of writer who writes 3,000 words in a sitting and throws out half of it. I'm lucky if I write 500 words in a sitting but they're usually pretty decent. I know that some people say not to edit as you write, but I do. I can't help it. It's like Dr. Editor & Mr. Writer.
JR: What's the latest happenings with your micropress, Future Tense?
KS: Well, that's another thing that takes up my time, but it's just as rewarding to me. I love producing books for writers–especially some of these young, talented freaks that I've been lucky to work with–Chelsea Martin, Riley Michael Parker, Prathna Lor, Chloe Caldwell, Gregory Sherl. Right now, we're about to finish up a trio of mini-size beauties printed by Scout Books, by Melody Owen, Sommer Browning, and Aaron Gilbreath. We also have another Jamie Iredell book out later this year and an awesome paperback reprint of the Gary Lutz chapbook we did five years ago. And some other things that I am super hyped about–but we haven't officially announced yet. I'll give a hint and say, one of the books we'll be doing in about a year will be a short story collection by one of my longtime favorite Portland writers.
______________________________________________________________________________
If you want to hear more from Kevin Sampsell, come to Portland Review's re-launch party at Literary Arts on February 15, 2013, from 6:30 p.m. to 8:30 p.m.