Submissions for the 2020 themed anthology, LABOR, have closed. 
2020 Anthology: Labor
Rihanna once sang, "There something 'bout that work, work, work, work, work, work." For our next issue, we'd like to uncover that something, whether through story, images, verse, or essay.
We are thinking about labor as work or employment, and how it relates to the body and the self. But we don't just want stories about working; we want to read about labor in all its forms: physical, emotional, invisible, and theoretical. How does labor influence the self and our orientation to the world? How does the self influence labor? We want to see examinations of labor as breathing, as birth, as historical movement, as formation, blood and germs, the gig, empathy, art, opposition, reciprocal energy, exploitation, werq, family-making, beasts of burden, language, and monetization.
SUBMISSIONS WINDOW: July 1 – September 2 (Labor Day)
PAYMENT: Submissions accepted for print will receive $30*, and a print copy of the issue
Work must be original, previously unpublished, and follow our submission guidelines:
Submissions should not contain identifying information, unless it is necessary to the content of your nonfiction.
In your cover letter, please include a word count and indicate whether your work is a simultaneous submission.
Contributors may not be current students of Portland State University's creative writing programs. We ask former students to wait at least four years after graduating before submitting their creative work to the journal.
All work will be considered for publication in our upcoming print issue as well as on our website. We are not currently able to offer payment for work published online.
*We are thankful for the generous support of the Literary Partnership Fund, distributed by CLMP through Amazon, which allows us to offer payment to contributors.
Verna Marion Nugent Chapbook Contest 
Portland Review welcomes emerging writers to submit fiction and nonfiction for the 2019 Verna Marion Nugent chapbook contest, judged by Porochista Khakpour. The winner will receive $500 and publication as a chapbook included inside our Labor issue.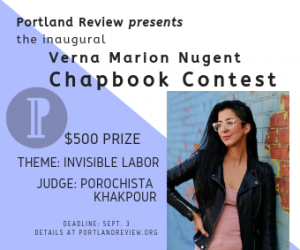 GUIDELINES: 
Submissions should center around invisible aspects of labor. Writers may interpret this in various ways, but submissions that do not fit this theme will be declined.
We do not accept simultaneous submissions for the chapbook contest, including work submitted to Portland Review's 2020 anthology.
Chapbooks should be between 15-25 pages, standard formatting (double-spaced, 12-point font).
ELIGIBILITY:
We define emerging writers as those who have not yet published a book at the time of submission (excluding self-published books). Additionally, writers should not have published work in major online outlets at the time of submission. We understand this term is slippery in definition and anticipate writers at various stages of emerging. Writers will be asked to submit a short statement of how they meet this qualification.
Porochista Khakpour was born in Tehran in 1978 and raised in the Greater Los Angeles area. She is the author of the novels Sons and Other Flammable Objects and The Last Illusion and the memoir Sick, chronicling her experiences with late-stage Lyme Disease, misdiagnosis, addiction, and recovery myths. Her first collection of essays, Brown Album, is forthcoming from the Vintage imprint of Knopt Doubleday; and in 2020, the Pantheon imprint of Knopf Doubleday will publish her third novel Tehrangeles.
She has taught creative writing and literature at colleges and universities around the world. She is currently faculty at the Stonecoast low-residency MFA and the Vermont College of Fine Arts full-residency MFA.
She regularly gives talks, lectures, and readings at festivals, universities, conventions, and conferences all over the country and has been on judging panels and committees for PEN, the Neustadt Prize, The Berlin Prize, Fine Arts Work Center in Provincetown,  the Rona Jaffe Foundation prizes, Asian American Writers Workshop writing contests, and many more.
Verna Marion Nugent was a Portland-based librarian, single-mother, and writer of short stories. The Verna Marion Nugent contest is made possible by a generous donation from her son, Ron Nugent. 
____________________________________________________________________________
ABOUT US: For over sixty years, Portland Review has published the works of emerging writers and artists alongside the works of well-established authors. We warmly encourage previously unpublished writers and artists to submit, and we aim to support work by those often marginalized in the artistic conversation, including (though certainly not limited to) people of color, women, disabled people, LGBTQIA people, and people with intersectional identities.
Please note Portland Review does not accept previously published material. Portland Review accepts simultaneous submissions, but please immediately withdraw your work via Submittable if it is accepted elsewhere. If one work out of a collection of poems or images needs to be withdrawn but the other works in the collection are still available, message us via Submittable with the title of the withdrawn piece.
By submitting your work to Portland Review, you confirm that you hold full copyright on all work submitted and agree to allow Portland Review print and distribution rights for both print and online publication. All rights to the piece(s) revert to the authors and artists upon publication, although we kindly request that you credit Portland Review as the initial publisher should the piece(s) be reprinted elsewhere. You also permit the editors of Portland Review to edit your work, within reason. Authors and artists will be contacted regarding edits prior to publication.
All submissions are read between October and November, so you can expect to hear back from us then. Thank you for contributing. We look forward to reading your work!