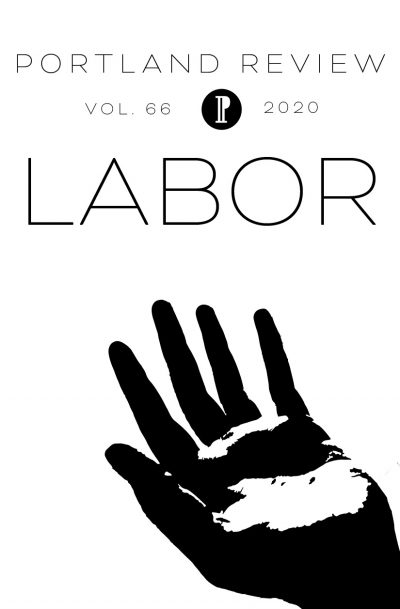 Portland Review 2020: Labor
We're not shipping issues right now due to COVID-19, so we've made the entire issue available as a free pdf.
The 2020 issue of the award-winning literary journal features new writing by twenty-two emerging and established authors from around the world. Exploring labor and its multiple applications, these stories, poems and essays offer unique perspectives that span cultures and histories. From the granular view of an ancient insect used in the making of dyes, to a woman operating a convenience store accessed only by her beloved, to a decade-long drought that reveals an underwater temple, these works illustrate how labor appears in our rituals, relationships, and self-concepts.
Featuring writing from Hilary Plum, Brian Evenson, Sophia Shalmiyev, Terrence Young, and Gnaomi Siemens. This issue also includes a separate chapbook by debut writer Sara Duff, winner of the inaugural Verna Marion Nugent Award.
Audio: listen to Michał Nowak read "A Little Faith, Man."
Interviews: read Nonfiction Editor Lee Ware's interview with Brian Evenson, Madeline DeLuca, and Nicole Melanson about labor under quarantine.
Lauren Camp, "Precious Bug"
Emily Costantino, Notes on a Body of Salt
Catherine Esther Cowie, "Skin," "Talk Therapy," Early Morning Rescue (online exclusive)
Tom Daley, 

"Interrogatives for a Family Archivist"

Madeline DeLuca, "Convenient"
Darren Donate, "A Welder's Letter to His Son"
Sara Duff, "Perfect Specimens," Verna Marion Nugent Chapbook Contest Winner
Katherine Eulensen, "Ellen Ripley Washes Dishes at the Southwest Diner," "Sarah Connor Works at Forever 21"
Brian Evanson, "A Report on Labor"
Marie-Louise Eyres, "I'd like a new job"
Lauren Hilger & Kay Cosgrove, "Women Laughing on Their Two Feet"
Hannah Huff, 

"I'm Thinking About my Molars Again, Hidden Laborers"

Robert Jackson, 

"Assisted Migration"

Polchate Kraprayoon, Wat Nong Bua Yai
Alder Fern, "Five Days Sober"
Nicole Melanson, "Stonework," "The Rest"
Cameron Morse, 

"The Pourer"

Michał Nowak, "A Little Faith, Man" (listen)
Hilary Plum, "If a gun disappears it reappears," "Startled newspaper," "Accurate sculpture"
Sophia Shalmiyev, "Connie Ramone's Day Off"
Gnaomi Siemens, Lindisfarne
Terrence Young, "Nostalgia"
Online Exclusive: