Shorts are mini digital fictional stories that exist in the space between short story and novella. They're published through England-based Platypus Press and include emerging and established authors such as Leesa Cross-Smith and Nur Nasreen Ibrahim, as well as past Portland Review-contributor Kristen Arnett. Each of the shorts described below live in the realm of relationships, and more specifically, in the universal truth of marriage and family and the toils that accompany them. These stories reflect our realities, our deepest fears, the words we feel and long to say when we've wronged the ones we love. In these stories, we are reminded of the universality of our struggles.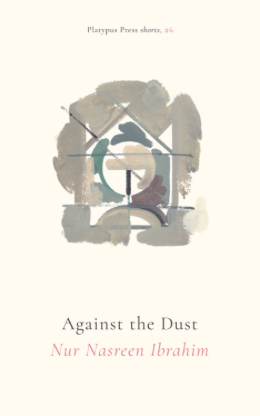 "Against the Dust" by Nur Nasreen Ibrahim (Shorts #6)
Gulzar writes to his wife Meena: "My heart does not belong in this devastated space / Who can find fulfillment in this impermanent world?" Gulzar, a servant of the famed writer Khan Sahib, finds himself far from his village, his wife, and child. As he begins to pack the belongings of his late master, Gulzar reflects on the circumstances that led him to this moment, imagining alone, without family, the ghost of the master he loved more than himself. He addresses his thoughts to his wife as he begins to recollect on the reasons he never returned home to Meena, and he realizes it's much easier to serve a stranger than endure the responsibility of others. After his master dies of cancer, Gulzar is dismissed of his duty and is ordered to return home. On his journey, he remembers the last time he talked to Meena—sometime over a decade's past. He envisions her waiting for him as she always has. When he returns home, he only finds himself more haunted.  
In "Against the Dust," Nur Nasreen Ibrahim tugs on the idea of impermanence, the transient lifespan of people, places, and relationships and what is left once those threads vanish. The roaming spirit of Khan Sahib created in the mind of Gulzar is a means of keeping the dead alive. The thoughts written to his wife Meena are meant as a way to rewind time. Gulzar is regretful, not for loving his master, perhaps not even for abandoning his wife Meena for life-long servitude, but of the loneliness he created in placing all of himself in those so impermanent.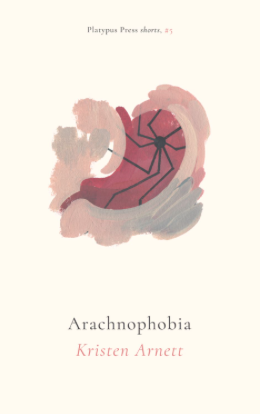 "Arachnophobia" by Kristen Arnett (Shorts #5)
What happens to your body when anxiety seeps in down to your bones, inside your stomach, the corners of your mouth?
Kelly suffers from acid-reflux, which is knowingly worsened by stress and anxiety. As Maria, her wife, wants to move forward in their relationship and begin to conceive a child, Kelly is having thoughts about her coworker, the way his hand resting on her leg sent her questioning. The more she thinks of him, of Maria and the inevitable baby, the more acid begins to build and push against her stomach, something she describes as a spider gnawing its stinger at her insides. With each pressure put forward, the hungrier the spider grows. The physical pain only subsides once Kelly tells Maria the truth.
Arnett's "Arachnophobia" is a reflection on the physical manifestation of emotions. In the case of Kelly, emotions are released in the form of acid-reflux. The pressures of the relationship and commitment are what initially drive Kelly's guilt, but it's the building deception that causes a violent reaction. It's ultimately Kelly's shortcomings as a partner which cause her to spiral. Only once honesty is revealed does Kelly's pain lift.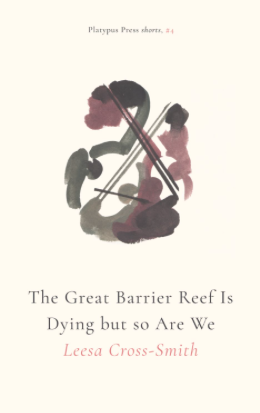 "The Great Barrier Reef is Dying but so Are We" by Leesa Cross-Smith (Shorts #4)
"Everything is dying," says Minnie as she turns to Connor, her music partner, in a hotel room hundreds of miles away from their home. Minnie is a traveling cellist performing at weddings, parties, and events, and her husband Adam is an actor. On the drive home from one of Adam's plays, Minnie brings up Caitriona, Adam's acting partner. Minnie is convinced there is something between them, just as Adam is curious of the deepening relationship between Minnie and Connor. The rest unfolds in the quiet of Minnie's basement as she asks Connor on the phone if he thinks Adam has ever cheated. The story ends when Minnie is anxiously awakened by the realization of it all; marriage, infidelity, jealousy; but is soon comforted by Adam's presence. A small reminder that for this moment in time, he is still here, beside her.
Leesa Cross-Smith subtly conveys the power jealousy has over relationships. It was jealousy that drove Minnie to Connor's hotel room six weeks prior. It was jealousy that texted Caitriona late into the night accusing her of loving Adam, and jealousy is the reason their relationship is dying. It is self-made harm, after all.
—
Nada Sewidan is Portland Review's Nonfiction Editor. She's currently attending the MFA creative writing program with an emphasis on nonfiction at Portland State University and holds a masters in English with a concentration in book publishing.