One of the most difficult aspects of writing to publish is the seemingly endless number of submissions sent out, only to be responded to with varying degrees of "sorry, try again." We at Portland Review are inspired by and support the resilience of the writers who push through and continue to submit. When that letter or email of acceptance finally arrives, it is accompanied by elation and a renewed sense of confidence and motivation.
We hope that Portland Review has been a source of confidence and motivation for those published in its pages over the years. To celebrate the ongoing work of our past contributors, we thought we'd briefly spotlight three writers who have seen a blooming in their careers: Chelsea Bieker, Melissa Febos, and Nathan Alling Long.
Chelsea Bieker's fiction work, titled "Dominos," was published in the Spring 2013 issue of Portland Review. "Dominos" takes its readers inside the mind of a male protagonist; a chilling window into a love obsession that leads to violence. The piece comments on male dominance, power, and sexual violence. Since being published in Portland Review, Chelsea has received a MacDowell Colony Fellowship and is currently working on the second draft of her novel set in her native central California. The novel follows teenaged Lacey May amidst the town's severe drought as she navigates an unexpected pregnancy after her mother abandons her for a man she meets through her job as a phone sex operator. Chelsea's writing will appear in the upcoming McSweeney's Quarterly (no. 53), and her work has also been featured in Catapult, Joyland, The Cincinnati Review, The Normal School, No Tokens, Cosmonauts Avenue, The Elephants, The Collagist, Portland Monthly, and Pregnancy & Newborn Magazine. She holds a BS in journalism from Cal Poly San Luis Obispo and an MFA in creative writing from Portland State University. Click here to learn more.
Another MacDowell Colony Fellowship recipient, Melissa Febos contributed to the Summer 2013 issue of Portland Reviewwith her piece "Anna, Apple." Melissa's piece "Anna, Apple" tenderly portrays the close friendship of two young women, one from a difficult and troubled home, the other curious about darkness and danger. Prior to her publication in Portland Review, Melissa's memoir Whip Smart: The True Story of a Secret Life was released in 2010 by St. Martin's Press. In it, she describes her vocation as a professional dominatrix in mid-town Manhattan while in college. Last year, Melissa's newest book Abandon Mewas published by Bloomsbury and has been compared to the work of Maggie Nelson and Leslie Jamison. It revolves around her experiences of love, loss, and passion while tying in themes of religion, mythology, psychology, and pop culture. Abandon Mewas named "One of the Best Books of 2017" by Esquire, Refinery29, LitHub, Book Riot, Medium, Electric Literature, The Brooklyn Rail, Vol. 1 Brooklyn, Largehearted Boy, The Coil, and The Cut. Abandon Mealso received the Lambda Literary Jeanne Cordova Prize for Lesbian Nonfiction. Melissa's second essay collection will be published by Bloomsbury in 2019. To learn more, click here.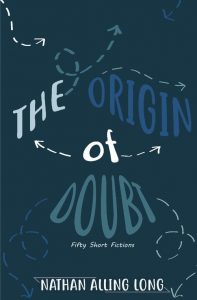 Nathan Alling Long's short fiction piece "Lindsey and I," appeared in our Spring 2014 issue and gives the reader a brief glimpse into adolescent friendship, intimacy, and curiosity. Less than three pages, the piece delves into early sexuality and experimentation. Press 53 released Nathan's flash fiction collection last spring, The Origin of Doubt: Fifty Short Fictions. Nathan currently teaches creative writing at Stockton University in New Jersey and his work has also appeared in Tin House, Glimmer Train, Indiana Review, The Sun, and Crab Orchard Review. His other accolades include a Mellon Foundation Fellowship, a Virginia Commission of the Arts Grant, and work scholarships to the Bread Loaf Writers Conference. Click here to learn more.
Nathan, Melissa, and Chelsea are just three among the hundreds of accomplished writers and artists whose work Portland Review has been proud to publish since its inception in 1956. We look forward to publishing many more writers and artists, and we invite you to learn more about our submission windows on our Submittable page or by subscribing to our newsletter.
—
Stephanie Sandmeyer is an Editorial Assistant for Portland Review.